the permanent fine art collection
---
The Women in the Great North Window
Special thanks to Jerry Gale for the detailed history of these beautiful stained glass masterpieces.
Ruth of Moab (Book of Ruth)
Queen Esther (Book of Esther)
Dorcas of Joppa (Acts 9:36-42)
---
Women Around Ruth
Women of the Bible
Naomi – Ruth's Mother-in-law
Miriam – Sister to Moses and Aaron
Rachel – Second and favorite Wife of Jacob, Mother to Joseph and Benjamin
Mispah – (Rizpah), King Saul's Concubine, mother to Armoni and Mephibosheth who were killed by David to prevent them from contesting the throne.
Hagar – Abraham's concubine and mother to Ishmael
Hulda – (Huldah), one of the seven prophetesses, authenticated a book of law that was discovered.
Hannah – Mother of Samuel, she prayed for a son and her prayers were answered
Leah – Older Sister to Rachel, First wife of Jacob, Mother to Rueben, Simeon, Levi, Judah
Women Around Queen Esther
Old Testament Queens or Important Females
Judith – From the Book of Judith (In the Catholic old testament but not Hebrew canon), She destroyed an Assyrian General and saved Israel
Vashti – First queen in the book of Esther. Behead when she refused to dance.
Bathsheba – wife of Huriah who David had killed so he could marry her, mother to Solomon
Abishag – King David's concubine in his old age. David's son wanted to marry her and maybe become King. She might be the female in the Song of Songs
Queen of Sheba – visited King Solomon with valuable gifts. Over time, legends have been invented and written about her.
Sarah - wife and half-sister to Abraham, mother to Isaac
Deborah – Prophetess, only female judge, Song of Deborah
Rebecca – Wife of Isaac, mother of Jacob and Esau

Women Around the Virgin Mary
Virgin Saints 
Catherine of Alexandria – Born 287. Died 305. Martyred in early 4th century. A noted scholar who converted hundreds of people to Christianity. Died at about age 18. Joan of Arc identified her as one of the saints who appeared to her. One of three virgin saints in the 14 Holy Helpers. Mentioned in the Acts of the Martyrs.
Barbara – Born 273, Died 306. No record of her exists until the 7th century. Secretly converted to Christianity. Tortured and beheaded by her pagan father. One of three virgin saints in the 14 Holy Helpers.
Ursula – Died on October 21, 383. Legend states that after a shipwreck she tried to lead 11,000 other virgins to see the pope, but were massacred by the Huns
Margaret of Antioch – Died in 304 at the age of 15. Mother died early and was raised by a Christian nurse. She reportedly performed many miracles. One of these involved being swallowed by Satan in the shape of dragon from which she escaped alive when the cross she carried irritated the dragon's innards. Joan of Arc identified her as one of the saints who appeared to her. One of three virgin saints in the 14 Holy Helpers.
Cecelia – Martyred on November 22, 230. Married a pagan but remained a virgin after her husband saw an angel standing beside her. She and her husband were killed together. She was struck in the neck three times with a sword but lived for three more days. Mentioned in the Catholic Canon of Mass.
Agnes – Born 291. Died 303. Agnes was a member of the Roman nobility, Raised in an early Christian family. She refused to marry pagan suiters and was reported to the authorities who had her stripped naked and marched to a brothel. She was beheaded at the age of twelve. Mentioned in the Catholic Canon of Mass.
Agatha – Born 231. Died 251. Born to a noble family, converted to Christianity, and made a vow of virginity. Tortured and killed for refusing to disavow Christianity. Mentioned in the Catholic Canon of Mass.
Lucy – Born 283. Died 304. Converted to Christianity and refused to marry a pagan. Before her execution, her eyes were gouged out. Mentioned in the Catholic Canon of Mass.

Women Around Dorcas of Joppa
Women of Charity
Elizabeth of Hungary – Born July 7, 1207. Died November 17, 1231. Daughter of a King II if Hungary. Married at age 14 and widowed at age of 20. After her husband's death, she sent her children away and regained her dowry, using the money to build a hospital where she served the sick.
Bridget (of Kildare) – Born 451. Died 525. Around 480, founded a monastery at Kildare, Ireland. She performed many miracles and services to the poor. She was St. Patrick's friend. She, St. Patrick, and Columba are the patron saints of Ireland.
Dorothea of Cappadocia – Born about 280. Died about 311. Another Virgin Martyr without much of a story. But, in art, she is drawn with Barbara, Catherine of Alexandria, and Margaret of Antioch.
Genevieve – Born about 420. Died about 510. After moving to Paris, dedicated her life to Christianity. In 451, she led a prayer marathon that saved Paris from Attila's Huns. When Paris was besieged in 464, she collected food and negotiated the release of prisoners. Patron saint of Paris.
Clara Barton – Born December 25, 1821. Died April 12, 1912. Nurse during the Civil War. She founded the Red Cross.
Florence Nightingale – Born May 12, 1820. Died August 13, 1910. Worked as a nurse during the Crimean War. Founder of modern nursing. Pioneer in statistics. Writer.
Harriet Beecher Stowe – Born June 14, 1811. Died July 1, 1896. Famous author and abolitionist. Wrote Uncle Tom's Cabin. Lincoln said to her, "so you are the little woman who wrote the book that started this great war."
Elizabeth F. Fry – Born May 21, 1780. Died October 12, 1845. English prison reformer, social reformer, and Quaker. Called "The Angel of Prisons". She was behind the English legislation to separate male and female prisoners and laws to abolish slavery.
---
The Other Walker Art Gallery
There is a second Walker Art Gallery in Minneapolis that few people know of. It is housed across the street from the world-famous Walker Art Center inside the Hennepin Avenue United Methodist Church, and holds the religious paintings that were part of T.B. Walker's original collection... (watch video above)
The Art Collection at Hennepin Avenue UMC
Few, if any, churches in America have so complete a religious art collection as that of Hennepin Avenue United Methodist Church. Housing over 275 works of art, including painting, lithographs, sculpture, graphics, and textiles, the 1916 church building itself draws artistic and architectural note with its cathedral-like construction and stained glass, topped by a slender, soaring spire. Together, edifice and artwork have inspired and given aesthetic pleasure to church members and the visiting public for several generations. Hennepin Avenue UMC's art is a unique resource in the Upper Midwest, educating, giving joy, and celebrating the sacred Word through visual display.
ARCHITECT: EDWIN HAWLEY HEWITT, 1874-1939
The Neo-Gothic style church edifice was designed by architect Edwin H. Hewitt after the Ely Cathedral in England. The sanctuary is unencumbered by pillars so that every worshipper has a clear view of the pulpit. Richly carved white oak woodwork adorns the chancel, chancel furniture, and organ.
STAINED GLASS PICTURED: THE GREAT NORTH WINDOW
SUBJECT: Ruth, Esther, Mary, Dorcas
DEDICATED: 1939
Visitors to the sanctuary find themselves bathed in glorious light beaming through the church's towering stained glass windows. The four pier windows and the three balcony windows were completed by 1939. They were designed by Charles J. Connick of Boston, one of Amerca's foremost artists in stained glass and the person credited with bringing medieval glass techniques to the United States.
People at Hennepin Avenue UMC know that their collection, like any resource, must be maintained and that it should reflect the art of today as well as the past. Restoration programs have played an important part in the life of the collection and continue to do so today.
---
The T.B. Walker Collection of Religious Paintings
Perhaps the most striking of all the church's collected works are the oil paintings given to the church by one of its earliest members, Thomas Barlow Walker (1840–1927). Having donated several paintings to the church around the turn of the century, Walker gained his fellow congregants' partnership in displaying religious art when they elected to incorporate an art gallery into the design of the new church building. On this page are featured a revolving few pieces of art from this collection.
ARTIST: ANTONIO CISERI, ITALIAN (1821–1891)
PAINTING (featured above): ECCE HOMO
Pilate presents Jesus to the crowd after his trial. Ciseri painted in the academic style, but shows influence from the impressionists and post impressionists. This was the first painting to be given to Hennepin Avenue UMC (circa 1900).
ARTIST: JULES JEAN ANTOINE LECOMPTE DU NUOY, FRENCH (1842–1923)
PAINTING: CHRISTIAN PILGRIMS AT THE TOMB OF THE HOLY VIRGIN IN JERUSALEM, 1877
Du Nuoy studied with the noted French academic painter, Jena-Leon Gerome. Like many artists of his generation, he was captivated by exotic scenes of the Near East. This painting was exhibited at the Paris Salon in 1878 and at the Minneapolis Institute of Arts in 1991.
ARTIST: JUAN CORREA DE VIVAR, SPANISH (ACTIVE 1549–1561)
PAINTING: THE ANNUNCIATION
The Archangel, Gabriel, comes to tell the Virgin Mary that she is to become the mother of the Lord. This is one of three paintings from a church near Toledo, Spain. It was part of a multi-panel screen behind the altar.
ARTIST: PIETER POURBUS, FLEMISH (1523–1584)
PAINTING: ABRAHAM AND THE ANGELS
The most significant work in the collection is this mannerist painting on wood panel. Northern European painters often set biblical subjects in their own time. Note the house and the servant's dress. Three messengers from God visit Abraham with the news that he and Sarah will have a son, Isaac. Sarah laughs at the idea of becoming a mother in her old age.
special fine art projects
Unveiling the Restored Painting
"Job's Messengers"
January 31, 2020
7pm in the Art Gallery
An evening celebration was held on January 31, 2020, which included live instrumentals, a presentation by art conservator Jane Westerlund about the refurbishment of the painting, a premiere of the revolutionary new Greenstein translation of "Job," and a concert excerpt from the Hennepin Singers' February 2 concert with Four Voices String Quartet. The evening culminated in the unveiling of the freshly restored frame and rehung painting, "Job's Messenger's."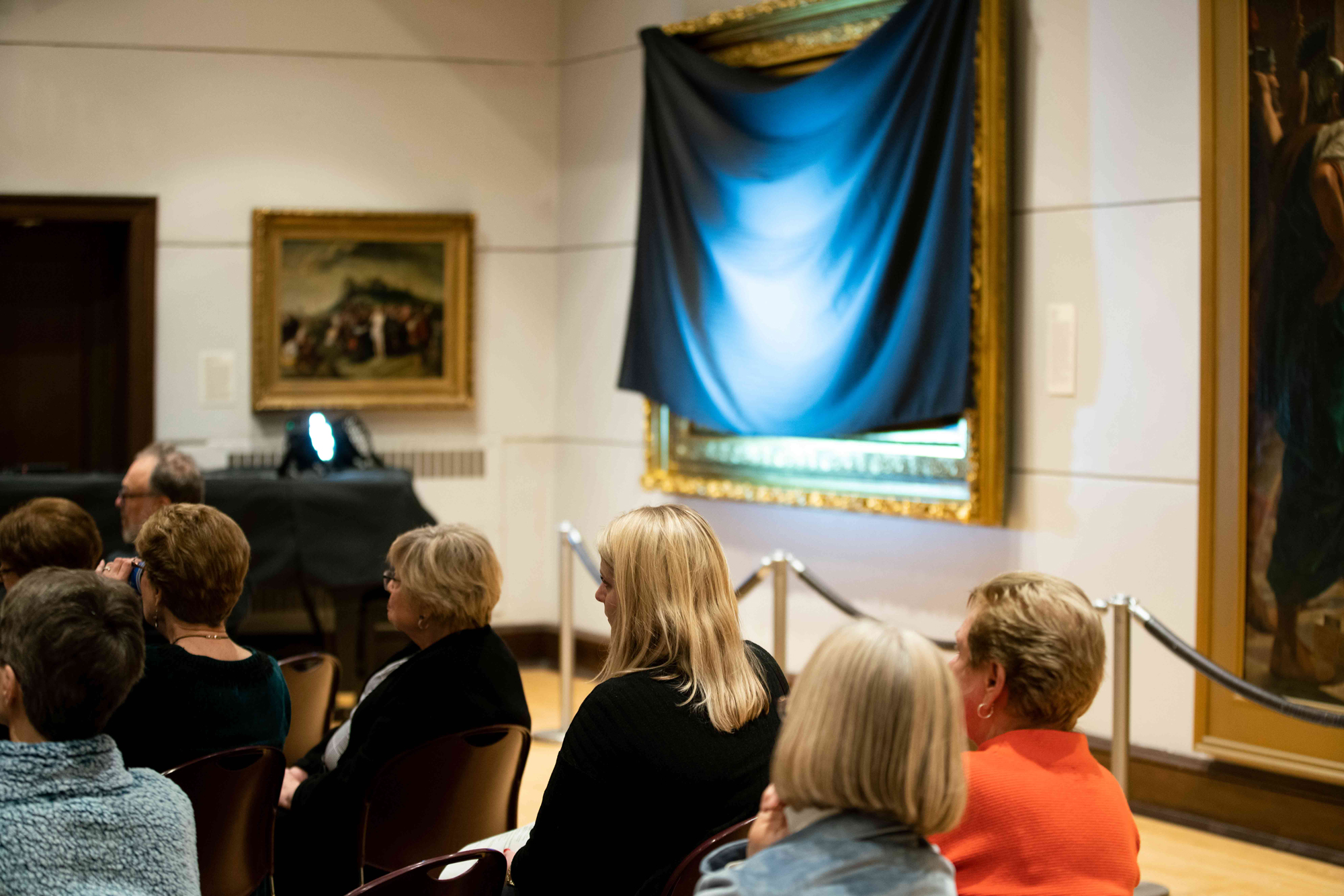 ---
---
---
Gilt Frame Restoration Project
The Gift of Gilding: Restoring the Frame of "Adoration of the Shepherds"


by Margaret Osborne
Artisans from across the country gave Hennepin Avenue UMC a gift of their talent this summer. The Society of Gilders held its annual conference in St. Paul on June 17–21, 2019 and they offered to restore a picture frame in the local community. The Fine Arts Team was approached by local gilder Carol Lenington this spring to see if the church was interested.
Background
When you look at a painting, you may not immediately notice the frame, but it can do much to enhance or detract from the painted image. One of the reasons the Art Gallery looks so beautiful is because of the work that has been done to take care of both paintings and frames. Over the years we have conserved most of the paintings given to Hennepin by T.B. Walker, and placed them in new or restored picture frames. The frame for "Job's Messengers" was in poor shape and required extensive work, so currently it is out for repairs at a local studio. The "Adoration of the Shepherds" painting was conserved in 1981, but the sturdy frame around it was untouched and looked dull and dirty. Carol agreed this frame would work well for The Society of Gilders' restoration project.
THE PROCESS
Hennepin Avenue UMC paid for the professional movers who took the painting down and removed it from the frame, as well as for the gilding supplies (including 23K gold leaf). Up to ten gilders worked on the restoration over the course of four days. First, they cleaned the surface, made minor repairs, and sealed it to prepare for the gild. Next, they applied a "size" which provided a tacky surface to hold the gold leaf.  Then, they carefully applied the gold leaf and brushed it into position around the complex surfaces of the ornate frame (gold leaf is so thin that it will fly away or disintegrate if you try to pick it up with your fingers). After applying protective shellac, the surface looked too bright and gaudy, so they "toned" it–they applied darker pigment to the recesses and polished the high points. This brought out the texture of the frame and gave it the proper "age."
View the Restoration
The next time you visit the Art Gallery, be sure to look for this painting on the North Wall. You will be amazed how much better it looks with this beautifully restored frame! Our thanks to the gilders who shared their unique talents to make this happen. 
Learn More
If you are interested in learning more about the work of the Fine Arts Team, please contact Beth Arel (betharel@msn.com).